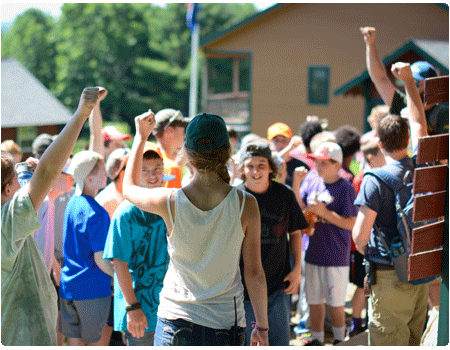 Each year, civic organizations, fish and game clubs, and individuals from around Vermont sponsor youth to attend GMCC.
Our sponsors provide financial support to individual families to cover part or all of the cost to attend. 
There are several different ways to become a sponsor, and we have options to accommodate as many needs as possible. With the help of our sponsors, we can provide support to as many of the campers as possible. 
GMCC Costs
GMCC Basic and Advanced Sessions
$250 per camper per week
Almost 1,000 youth per summer
Teen Conservation Weekend
$125 per teen (ages 15-17) for the weekend
25 youth per summer
Registration for both programs opens in early January each year.
One-time Sponsorships
Any individual or organization who wishes to make a one-time donation to help sponsor youth attending GMCC is encouraged to donate to the GMCC Scholarship Fund. Scholarship funds will be dispersed by the GMCC office to parents and guardians who request financial assistance on a first come first served basis. 
If you would like to donate, please print and complete the GMCC Scholarship Fund Donation Form. 
Please make checks payable to GMCC Scholarships and mail the completed form along with a check to:
Vermont Fish & Wildlife Department
ATTN: GMCC Scholarships
1 National Life Drive, Davis 2
Montpelier, VT 05620
Annual Sponsors
Community organizations provide most sponsorships to GMCC campers, many of which provide sponsorships for campers year after year. Each organization is provided with an updated Sponsorship Agreement Form every year. 
Parents and guardians of interested youth are responsible for reaching out to these organizations to inquire about sponsorship before submitting their application. 
Once the organization agrees to provide a partial or complete sponsorship, they should complete and sign the current year Sponsorship Agreement Form. It is the parent or guardian's responsibility to send the signed Sponsorship Agreement Form in along with their child's application. 
The signed form acts as the payment method for that child, allowing their application to be fully processed and assigned to a session or waitlist. Applications submitted without the signed form will not be processed until the signed form is received, creating the potential for a child's preferred session to fill and leaving them unable to attend. 
No funds are required of sponsors upfront. At the end of the season, sponsors will be billed for all children who submitted a valid Sponsorship Agreement Form signed by their organization representative. 
New Sponsors
If your organization is not yet an annual sponsor of GMCC and would like to become one, we would love to have your support! There are two options for new sponsors:
Public Sponsors are listed on our Public Sponsor List. Families can find this list on our website and use it to locate sponsors in their area. This does not guarantee your organization will sponsor them, but rather gives them a list of people to reach out to and ask. 
Private Sponsors are not listed anywhere for families to find and reach out to. Rather, it is the responsibility of the sponsor to find interested youth to send to GMCC. 
The most effective and efficient way to sponsor campers is to allow any interested party to utilize a sponsorship. Occasionally, public or private sponsors choose to include specific requirements in order for youth to be eligible, such as geographic location. 
Annual sponsors can change their status to Public, Private, or Inactive at any time. Inactive sponsors do not provide sponsorships until they return to Active status. 
If your organization would like to become either a private or public sponsor, please fill out the Sponsor Contact Form. The completed form can be emailed to FWGMCC@vermont.gov or mailed to:
Vermont Fish & Wildlife Department 
ATTN: GMCC 
1 National Life Drive, Davis 2
Montpelier, VT 05620
If you have any questions regarding sponsorships or how to become a sponsor, contact the GMCC office at (802)-522-2925 or email us at FWGMCC@vermont.gov. 
Current Sponsors
Current sponsors, thank you for your continued support of youth attending GMCC! 
To update your organization's contact person or billing address, please fill out the Sponsor Contact Form. Completed forms can submitted via mail or email. 
The Sponsorship Agreement Form for the upcoming camp season will be mailed to each active sponsor in the fall. Please feel free to make as many copies of the form as you would like but remember we do NOT accept forms that have been altered or edited in any way. Continued use of this form will ensure you are billed only for campers who have been approved ahead of time. 
To request another copy of this year's Sponsorship Agreement Form or additional GMCC marketing supplies, please reach out to the GMCC office. 
If you have any questions regarding sponsorship, your active status or anything else contact our office at (802)-522-2925 or FWGMCC@vermont.gov.