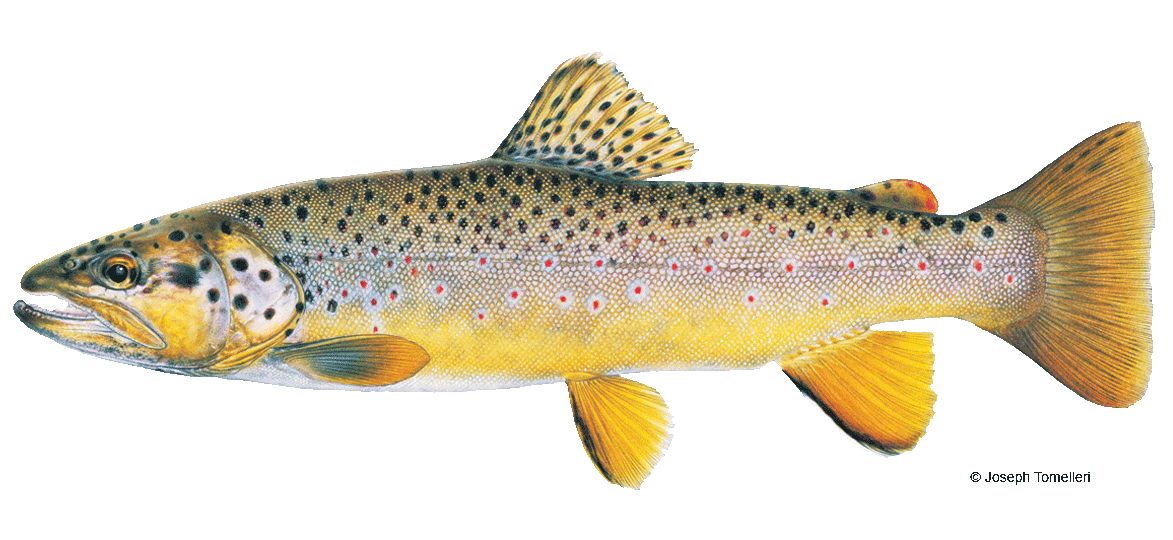 Fun Facts
Species Name: Salmo trutta
Common Names:

German trout, Loch Leven trout

State Record: 22 lbs. 2.5 oz. Caught in Sherman Reservoir in 1990 by Barry Bouker.
Description
A true trout that was first brought to Vermont from their native Europe in 1892. They have a light brown overall color, especially in streams, with dark spots intermixed with reddish-orange spots on their flanks, with each spot surrounded by a light halo.
Where to Fish
Distributed in cool to coldwater streams and rivers, as well as coldwater lakes, brown trout can be found throughout Vermont. Next to brook trout, brown trout are the most widely distributed salmonid species in the state.
Some of the state's premier brown trout fisheries include the Batten Kill, Middlebury, Neshobe, Dog, Castleton and Poultney rivers, Furnace Brook and Otter Creek, and lakes Bomoseen, St. Catherine and Memphramagog.
How to Fish
Both river and lake-dwelling brown trout can be targeted with a wide range of presentations. Brown trout in rivers and streams can consistently be caught with live bait such as night crawlers and small minnows, and with artificial baits including flies, streamers and spinners.
Lake-inhabiting browns are very much the same and can fall for similar live bait selections, as well as to lures like trolled stickbaits and crankbaits.
Lake dwelling brown trout are usually easier to catch in the winter than they are during the summer. Suspending a live baitfish under a tip-up is a good way to target them.