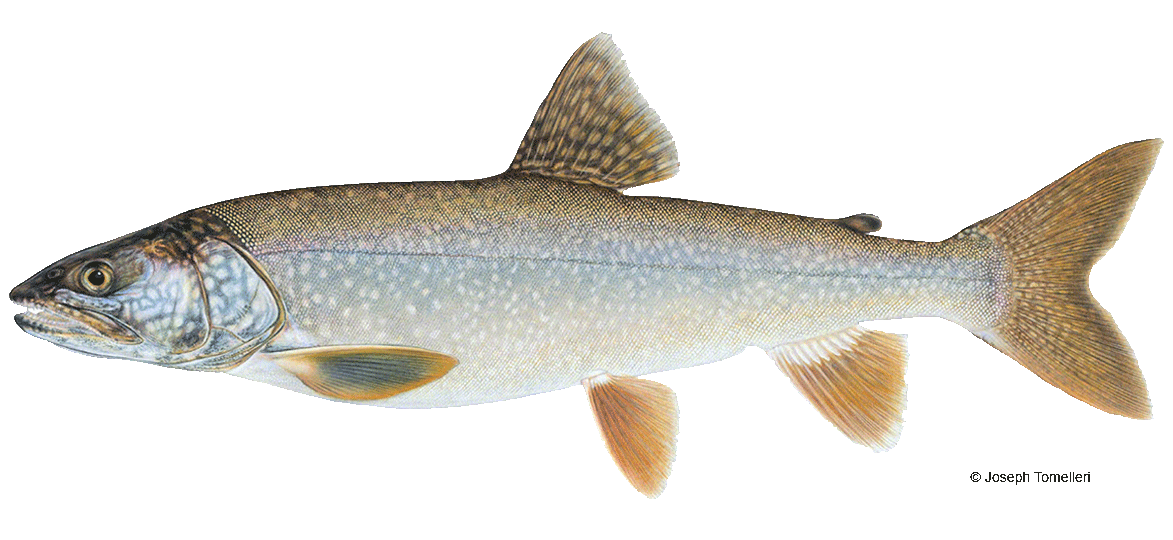 Fun Facts
Species Name: Salvelinus namaycush
Common Names: mackinaw, lake char, charr, touladi, togue, grey trout, longe
State Record: 35 lbs. 3.2 oz. Caught in Lake Willoughby in 2003 by Shawn Dutil.
Description
Lake trout are native to many of Vermont's deep, cold lakes. Like brook trout, they are actually a char. They have a forked tail, white leading edges on their lower fins, and irregular light spots against a back-ground color that ranges from light olive green to gray.
Where to Fish
Most of Vermont's top lake trout waters can be found in the Northeast Kingdom. Popular lake trout fisheries in this region include Caspian, Maidstone, and Seymour lakes, as well as Lake Willoughby. However, Lake Champlain is by far the state's biggest producer of lake trout.
Lake Dunmore and Spring Lake in southwestern Vermont are also stocked with lake trout and provide minor fisheries. Lake trout can also be found in Harriman Reservoir near the Massachusetts border and Echo Lake and Lake Rescue in the southeastern part of the state. In total, 23 Vermont lakes contain lake trout.
How to Fish
Similar to salmon, lake trout can be found in shallow water after ice-out in the spring before moving deeper in the summer. Before water temperatures rise above the low-50's, try trolling lures such as crankbaits, stickbaits or spoons around shoreline structure and islands.
As the summer progresses and lake trout head into deep water, these same baits must be fished off downriggers, or attached to wire or leadcore lines in order to reach the depths occupied by lake trout. Good depth-finding electronics may be needed to locate and target structure-oriented or suspended deep water trout.
In addition to trolling, jigging buck-tail jigs and spoons is also a proven method for catching deep trout. As waters cool again in the fall, trout can be found migrating towards rocky shorelines and reefs where they typically spawn.
Lake trout can be caught through the ice by jigging spoons and jigs or by fishing live baitfish under tip-ups.