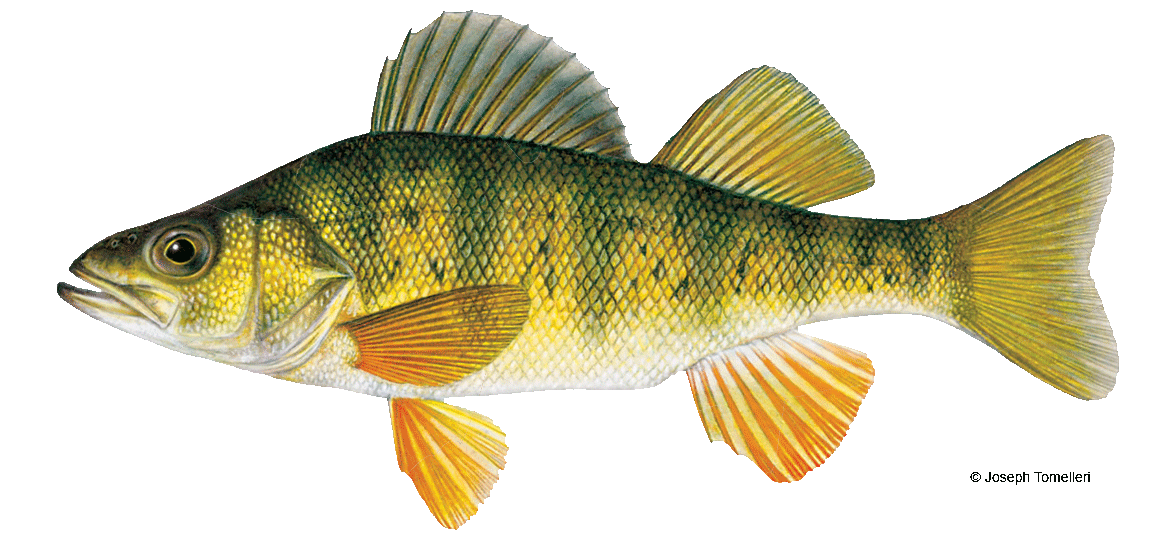 Fun Facts
Species Name: Perca flavescens
Common Names: perch, American perch, lake perch, ring-tail perch, ringed perch, striped perch
State Record: 2 lbs. 6.4 oz. Caught in Lake Champlain in 2015 by Keith Sherwood
Description
One of Vermont's favorite food dishes and common to waters throughout the state. A schooling fish, yellow perch have golden-yellow flanks with six to eight dark vertical bars and orange lower fins.
Where to Fish
Yellow perch, a preferred forage fish for walleye, northern pike and smallmouth bass, are abundant in many bodies of water across Vermont.
Well-known yellow perch fisheries include lakes Champlain, Carmi, Morey, Bomoseen and Memphremagog, Chittenden and Harriman reservoirs, and Berlin Pond and Otter Creek, though many other small lakes and ponds sustain healthy populations of this species.
How to Fish
Yellow perch can be found relating to various types of aquatic habitat including submerged weed beds, shallow and deep rock structure, sunken trees, logs and stumps, and shoreline cover including overhanging trees and docks. Additionally, perch often hang around man-made cover such as bridge pilings and piers.
One proven tip for locating perch around these types of cover is to find structure that is directly adjacent to deep water. Perch will often relate to quick, steep drops where deep water cuts close to underwater cover.
Anglers typically succeed in targeting these aggressive feeders with live bait such as worms and small minnows, or with artificial lures like small grubs, tubes, flies and spinners.
Yellow perch are the most popular target for Vermont's winter anglers, who typically use small jigs tipped with maggots or perch-eyes to catch this abundant, tasty species.