The Colchester causeway not only provides great bike riding along the Burlington Bike Path, it also offers some excellent shoreline fishing.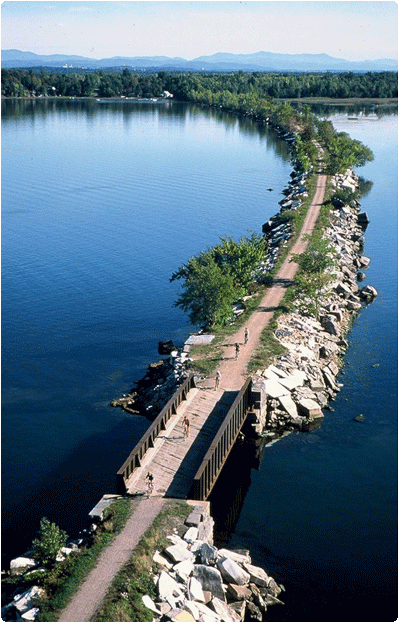 The causeway features two different "fills" where outer Malletts Bay connects to the main lake area of Lake Champlain by way of small water channels. The southern-most fill along the breakwall, near Law Island, is passable by foot via an old iron bridge. The northern-most fill of the causeway is only passable by boat or by swimming. Fishing opportunities at the north fill are usually good year-round, while fishing at the south fill is generally more productive from spring through early summer.
What fish species will I find?
Primarily smallmouth and largemouth bass, yellow perch, rock bass and northern pike, though anglers may also connect with other species including carp, drum, bowfin, bullhead, walleye, lake trout, salmon, and various panfish, among others.
What's the habitat like?
Both fills create natural funnel points where fish are forced to pass through while moving between Mallets Bay and the main lake. Both fills typically have some level of current flowing through them which means they are essentially natural conveyor belts of forage for all sorts of fish, from large to small.
Both fills feature hard bottoms of rock and sand with large chunk rock on the adjacent banks, as well as old wooden bridge pilings close to shore. The north fill is deeper than the south fill. The consistent presence of current, access to both shallow and deep water, and quality fish-holding structure makes the habitat at both Colchester fills about as good as it gets for fishing from shore for many species of fish.
Give these fishing tips a try
Productive tactics for fishing at the Colchester fills can vary based on the time of year, water level and temperature, and amount of current. But there are a few general strategies that tend to work.
For smallmouth and largemouth bass, as well as occasional northern pike, try dragging a Carolina-rigged plastic craw, lizard or creature bait, drop-shotting a plastic worm or senko-style bait, or steadily retrieving a spinner bait through the fill. Stickbaits, spinnerbaits and crankbaits can also be effective at different times to imitate different types of baitfish.
For perch and other small panfish, try using small grubs or tube baits rigged on a light jighead, or fishing with a basic worm and bobber rig. One key to fishing either of the fills is to pay attention to where you get a bite or catch a fish.
Sometimes active fish are out in the middle of the current while other times feeding fish will hold behind different structure like chunk rock and pilings near the shore, or boulders along the bottom in the middle of the channel. Also try fishing lures or bait rigs at varying levels in the water column from the bottom to the top until you determine whether the fish are on the bottom or suspended in the water.
A final tip is to be sure to maintain contact with bottom bouncing baits by keeping your line tight. Often the current in these spots will cause your line to go slack and you won't be able to feel your bait or detect a bite. If you maintain steady contact with your lure with a tight line you will increase your odds of hooking up!
How do I get there?
You can walk or bike to the Colchester fills on the Island Line Trail. Pick up the trail anywhere between downtown Burlington and Colchester, or, drive to Mills Point Road in Colchester – off from Colchester Point Road, park your vehicle at the public lot there, and walk or bike the rest of the way in on the trail.