The "Salmon Hole" area of the Winooski River near downtown Winooski is a famed Vermont fishing spot known for producing a wide range of fish species just minutes from the center of Burlington.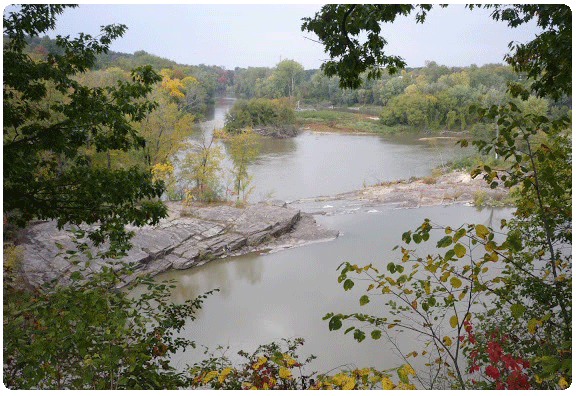 Approximately 2.5 miles from Church Street in Burlington, Salmon Hole has been attracting anglers of all interests and abilities for decades – and for good reason. Just below the Winooski One Dam, this area holds numbers of both cold and warm water species at different times throughout the year. The greatest diversity of fish may be seen during the spring and fall seasons.
Fish congregation at Salmon Hole is largely dependent on water temperature, level, flow rate and seasonal migrations. However, in general, this area provides key habitat and forage for many species and provides top-notch shoreline fishing opportunities in a truly convenient setting.
One consideration for anglers to note is that this area, from the Winooski One Dam downstream to the first railroad bridge, is closed to fishing between March 15 and June 1 to protect spawning walleye and endangered lake sturgeon.
What fish species will I find?
Anglers fishing this spot will find primarily landlocked Atlantic salmon, steelhead rainbow trout, walleye, smallmouth bass, rock bass, white perch, yellow perch, brown bullhead, bowfin, freshwater drum, fall fish, lake trout, brown trout, redhorse sucker and white sucker. Further downstream and in slower moving water, chain pickerel, northern pike and largemouth bass may also be caught
What's the habitat like?
The Salmon Hole area around the Winooski One Dam typically features moderate to rapid flow rates and a bottom composition consisting mostly of ledge, boulders, chunk rock, gravel and sand. The rock formations create holes, eddies, riffles, channel swings and other types of aquatic structure that provides quality habitat for many fish species. Overhanging trees and submerged laydown tree limbs are found at different times and also provide habitat for both resident and migrating fish.
Give these fishing tips a try
Using lure or bait rigs that are effective for many types of fish is a good strategy when fishing the Salmon Hole. Lures such as suspending stickbaits, inline spinners, lipped crankbaits and a small plastic grub or worm on a jighead are versatile artificial offerings that mimic various types of forage including small minnows, crayfish and aquatic insects.
An assortment of flies can also be effective, as can a standard worm and bobber rig or minnow on a hook, among other setups.
Try casting your lure or bait up stream and bring it back down stream with the natural flow direction of the river, as well as making retrieves across and against the current. Depending on the species you may be targeting, consider fishing at different levels in the water column from bottom to top until you find a productive pattern. Also, try to present your lure or bait at any visible cover or changes in current that might offer an ambush spot for feeding predatory fish to hold while waiting for food to drift by.
"Dead-sticking" your lure or bait rig can also be productive. This technique can be done with bottom lures, suspending lures, and live bait such as a night crawler. Cast your line out and let your lure or bait sit still in the target location for an extended period of time, until you either get a bite or feel it is time to try a cast to a different spot.
How do I get there?
From downtown Burlington, take VT Route 7 / U.S. Route 2 / Riverside Avenue or Colchester Avenue to the city of Winooski. On VT Route 7 / U.S. Route 2 / Riverside Avenue, shortly before the bridge crossing over the Winooski River, look for a parking lot on the left and the path leading down to Salmon Hole. Park here and walk down the path to the river.