The Sandbar Wildlife Management Area (WMA) offers shallow-water fishing opportunities around the delta of the Lamoille River and is only a short drive from downtown Burlington.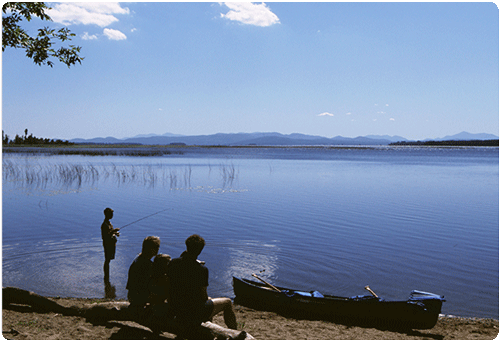 Depending on the time of year and water level, this area can produce a broad range of fish species, though shallow, warm-water dwelling fish are most common.
What fish species will I find?
Primarily largemouth bass, northern pike, chain pickerel, and panfish, though anglers may also connect with bullhead, carp, and bowfin, among others species.
What's the habitat like?
The aquatic habitat around the Sandbar WMA consists of shallow water with a primarily sand and mud bottom. Aquatic vegetation such as pencil grass, pondweed, milfoil and lily pads exists throughout this area, as well as submerged tree limbs and brush, and over hanging trees.
Give these fishing tips a try
Anglers fishing at the Sandbar WMA can fish from shore in the area of the Route 2 culvert (shore fishing only) as well as in Lake Champlain outside of the refuge boundary. Given the shallow water, soft bottom composition and scattered presence of various types of aquatic vegetation, anglers may want to try weedless lures such as Texas-rigged worms, creature baits and other soft plastics, or top water lures such as poppers or floating frogs, to fish around visible cover.
Baitfish imitating spinnerbaits or swim jigs can also be great choices for fishing around submerged vegetation. A basic worm or minnow and bobber rig is tough to beat for many species of fish and should not be forgotten when fishing around the Sandbar WMA.
Anglers should note that the parking area at the Sandbar WMA is also a great place to launch a small boat such as a canoe or kayak. Though there is no boat ramp present, the shallow, gradual shoreline is perfect for launching a small vessel.
How do I get there?
Take Interstate 89 North to Route 2, exit 17 – Milton / Lake Champlain Islands. Bear right off the exit and head west on Route 2 approximately 6 miles until you see the Sandbar WMA on your left – across from Sandbar State Park.