The Colchester Point Fishing Access Area (sometimes called Windermere Way Access Area) on the Winooski River is another easily-accessible and productive fishing spot within a short walk, bike ride or drive of downtown Burlington.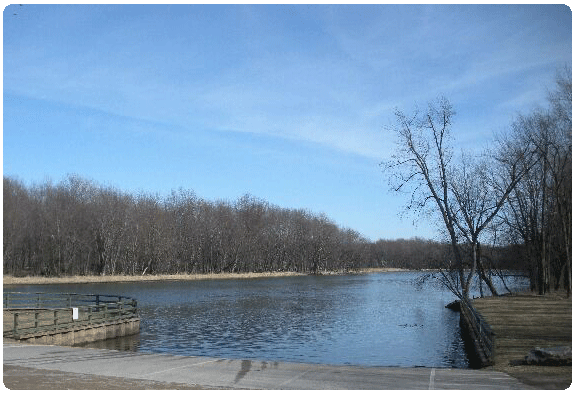 Near the mouth of the Winooski River where it dumps into Lake Champlain, this section of river can be a true multi-species hot spot capable of producing a wide range of fish including both cold and warm water species. Similar to other Lake Champlain tributaries, the Winooski River provides key habitat and forage for many species at various times throughout the year and provides top-notch fishing opportunities for many different types of anglers.
Just west of the Colchester Point Access Area is the Burlington bike path, which passes through Winooski Park District's Delta Park. The Heineberg Bridge Access Area is further upstream where VT Route 127 crosses the river.
What fish species will I find?
Anglers can target a variety of fish including brown trout, bullhead, carp, chain pickerel, lake trout, largemouth bass, landlocked salmon, northern pike, panfish, rainbow trout, freshwater drum, smallmouth bass, walleye, white perch and yellow perch.
What's the habitat like?
The area of the Winooski River directly around the Colchester Point Fishing Access Area typically features slow to moderate flow rates depending on time of year, recent precipitation and water levels. The lake bottom is primarily sand and mud. Laydown tree limbs, overhanging trees, brush piles, channel swings, undercut banks, sandbars and eddies are a few of the types of aquatic structure that create quality habitat for both resident and migrating fish.
Give these fishing tips a try
Using lure or bait rigs that are effective for many types of fish is a good tactic given the range of fish species that either reside around or pass through this area of the Winooski River. Suspending stickbaits, lipped crankbaits, inline spinners and a small grub or worm on a jighead are versatile lures that mimic fish forage, like small minnows, crayfish and aquatic insects.
An assortment of flies also can be effective, as can a standard worm and bobber rig or minnow on a hook.
Try casting your lure or bait up stream and bring it back down stream with the natural flow of the river. Depending on the species you are targeting, consider fishing at different levels in the water column from bottom to top until you find a productive pattern.
Experiment with casts to different parts of the river from the shoreline to the middle of the channel. Try reeling, dragging or drifting your bait of choice along any visible cover including submerged wood, sea walls or eddies.
It also can often be effective in various conditions to "dead-stick" your lure or bait rig. This can be done with both bottom lures and suspending lures, as well as with live bait such as a night crawler. Cast your line out and let your lure or bait sit still in the targeted location for an extended period of time until you either get a bite or feel it is time to try a cast to a different spot. Fishing is often about learning clues from trial and error before developing a productive tactic, so don't be afraid to try different methods!
How do I get there?
By vehicle from downtown Burlington, take Battery Street to VT-127 (Burlington Beltline). Remain on VT-127 until it crosses the Winooski River and becomes Heineberg Drive. From Heineberg Drive turn left on to Porters Point Road and follow northwest until you come to Colchester Point Road. Turn left on to Colchester Point Road and then turn left on to Windemere Way. Stay on Windemere Way until you arrive at the Colchester Point Fishing Access Area.
By foot or bike, take the Burlington Bike Path – also known as the Island Trail Line – north past North Beach, Leddy Park and across the Winooski River. The Colchester Point Fishing Access Area will be ahead on your right shortly after crossing the Winooski River.
To get to the Heineburg Bridge Access Area, take Exit 16 from I-89 onto US Route 7. Travel north for approximately 2 miles to Colchester, then turn left onto VT Route 127. Travel on VT Route 127 approximately 4 miles to Malletts Bay, then turn left onto Prim Road (Rte. 127 continuation). Travel another 1.75 miles on Rte 127/Prim Road, and the entrance to the access area will be on the right just before Rte 127 crosses the Winooski River.