Two separate fishing access areas just below the Route 2 bridge in Milton provide quality opportunities for anglers looking to fish the lower Lamoille River area.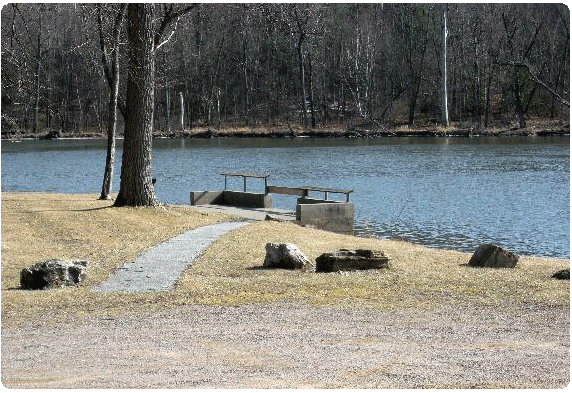 The first location, the aptly-named Lamoille River Fishing Access Area, features a concrete boat launch ramp, fishing platform and open shoreline, along with a vehicle parking area. This access area is just upstream from where the Lamoille River flows into Lake Champlain, and just downstream from the Sears Fishing Access Area.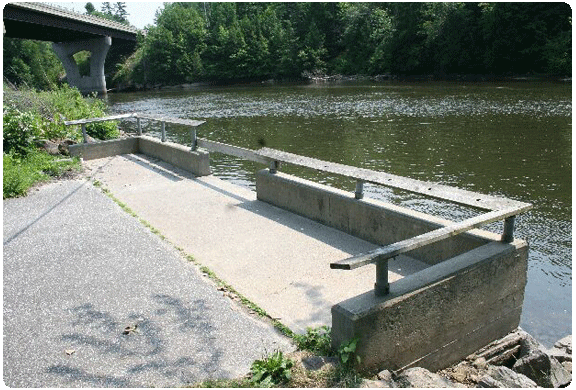 The Sears Fishing Access Area, directly adjacent to the Route 2 bridge, consists of a shoreline fishing platform, open shoreline and vehicle parking area. Both sites allow for easy shoreline access to fishing along the lower section of the Lamoille River, an area known for producing a variety of fish species throughout the year.
What fish species will I find?
Angler will find primarily black crappie, bowfin, brown trout, bullhead, chain pickerel, channel catfish, largemouth bass, landlocked salmon, northern pike, sheepshead, smallmouth bass, walleye, white perch, yellow perch and various panfish.
The lower Lamoille River offers excellent fishing from mid-May through the fall. The spring (May) offers the best chance to catch walleye during the spawning run.
What's the habitat like?
The area of the Lamoille River around the Route 2 bridge typically features slow to moderate flow rates, depending on time of year, recent precipitation and water levels. The area has a bottom composition consisting primarily of sand, mud and gravel, with occasional chunk rock. Bridge pilings, boat docks, laydown tree limbs, overhanging trees, brush piles, channel swings, undercut banks, sandbars, eddies, riprap banks and aquatic vegetation are a few of the types of aquatic structure that create quality habitat for both resident and migrating fish.
Give these fishing tips a try
Given the range of fish species that either reside around or pass through this area of the Lamoille River, one good approach is to use lure or bait rigs that are effective for many types of fish. Lures such as suspending stickbaits, lipped crankbaits, inline spinners and a small grub or worm on a jighead are really versatile artificial offerings that mimic a variety of fish forage including small minnows, crayfish and aquatic insects. An assortment of flies can also be effective, as can a standard worm and bobber rig or minnow on a hook, among other setups.
Try casting your lure or bait up stream and bring it back down stream with the natural flow direction of the river. Depending on the species you may be targeting, consider fishing at different levels in the water column from bottom to top until you find a productive pattern.
Also experiment with casts to different parts of the river from the shoreline to the middle of the channel. Try reeling, dragging or drifting your bait of choice along any visible cover including submerged wood, boat docks, bridge pilings, chunk rock banks and current breaks.
It also can be effective in various conditions to "dead-stick" your lure or bait rig. This can be done with both bottom lures and suspending lures, as well as with live bait such as a night crawler. Cast your line out and let your lure or bait sit still in the targeted location for an extended period of time until you either get a bite or feel it's time to try a cast to a different spot. Fishing is often about learning clues from trial and error before developing a productive tactic, so don't be afraid to try different methods!
How do I get there?
From Interstate 89 or VT-7 in Milton, take VT Route 2 west toward the Champlain Islands. To get to the Sears Fishing Access Area, take a left on to Cub Road shortly after crossing over the Lamoille River. At the end of Cub Road, turn left on to Gravelle Road and follow until you reach the access area. To get to the Lamoille River Fishing Access Area, also turn left on to Cub Road after cross the Lamoille River. At the end of Cub Road, turn left on to Gravelle Road and then take a quick right on to Access Area Road. Remain on Access Area Road until you reach the fishing access area.