Shelburne Pond is a shallow, 450-acre recreational gem just 10 miles from downtown Burlington that offers great fishing in a small-water, rural setting.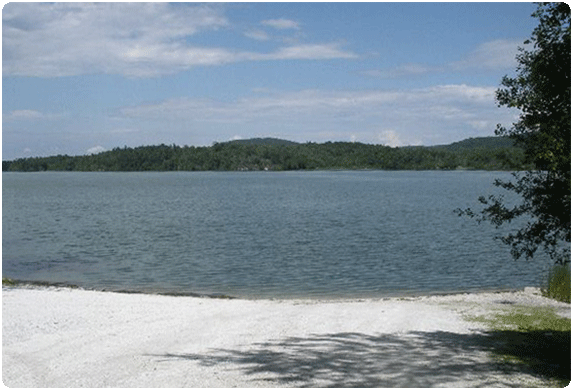 A gravel boat ramp at the southwest corner of the pond allows for easy access for boats, canoes and kayaks. But a vessel isn't essential as the shoreline fishing opportunities are excellent. Anglers can follow various paths or walk through the woods to try out different spots along the pond's shoreline.
What fish species will I find?
Anglers can target largemouth bass, northern pike, brown bullhead, yellow perch, black crappie and various other panfish.
What's the habitat like?
The pond has a maximum depth of 25 feet and features diverse aquatic habitat. The habitat ranges from shallow, soft-bottom areas with aquatic vegetation to ledge outcroppings, bottom strewn boulders and gravel banks. Anglers may also find the occasional laydown tree limb or brush pile along the shoreline that provide great cover for resident fish.
Give these fishing tips a try
Anglers fishing Shelburne Pond will be successful using techniques and bait or lure rigs tailored to fishing around shoreline cover and off-shore vegetation. For anglers targeting larger predatory species like largemouth bass and northern pike, try fishing on the bottom around aquatic vegetation or submerged brush with Texas-rigged soft plastic worms or crayfish imitators. When fishing the middle of the water column, use a steadily retrieved spinnerbaits or bladed jigs, and use top water lures such as floating frogs or walking style baits when fishing close to the surface. A worm and bobber set up, or a live minnow rigged on a hook will also work well for these predatory fish.
For smaller species like yellow perch and various panfish, it's hard to beat a worm and bobber rig. However, artificial tackle like a small grub or tube bait on a jighead, or a lightweight drop-shot setup with a tiny plastic worm or minnow can also be productive. Try fishing different types of cover – including rocky ledges, submerged vegetation, and sunken timber until you find a productive pattern for the species you are targeting.
How do I get there?
From Route 7 in Shelburne Village, take Falls Road south to the intersection with Marsett Road. Turn left to stay on Falls Road which becomes Irish Hill Road. At the intersection of Irish Hill Road and Dorset Street, continue straight onto Pond Road. Pond Access Road will be on your left. Continue on Pond Access Road until you reach the Vermont Fish & Wildlife fishing access area.