Oakledge Park, just south of downtown Burlington, is a recreational gem that offers quick, easy access, a beautiful setting and some great fishing.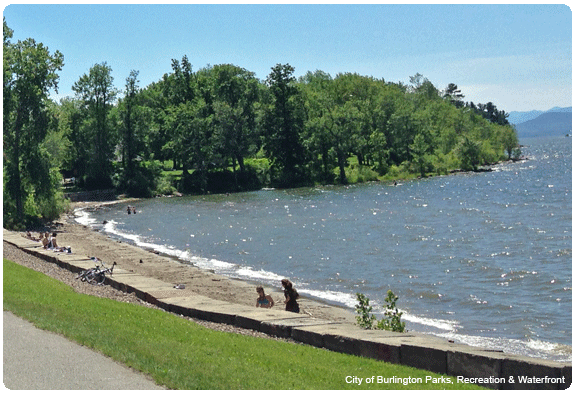 One unique aspect of the park is that it is located near diverse aquatic habitat, from very deep to very shallow, ultimately meaning anglers may encounter both warm and cold water species while fishing.
What fish species will I find?
Anglers will find primarily smallmouth bass and panfish. But you may occasionally encounter freshwater drum, common carp and coldwater species like lake trout and salmon off the deeper shoreline near the southwest corner of the park.
What's the habitat like?
The lake bottom around Oakledge Park consists primarily of sand, gravel, ledge and boulders. This mixture of hard bottom habitat creates a great aquatic environment for various panfish species, as well as smallmouth bass.
Give these fishing tips a try
Given that anglers will mostly see panfish, smallmouth bass and the occasional drum or carp in this area, there are a few different live bait and artificial lure options that may prove productive. Minnows, crayfish and aquatic insects are common forage species for smallmouth bass, panfish and drum, though drum also forage on bottom-dwelling mussels. The common carp, an omnivorous species, prefers to comb the bottom for aquatic insects, crayfish and worms, as well as feed on aquatic vegetation.
Anglers fishing at Oakledge can't go wrong by fishing a small, brown or green soft plastic tube bait or spider grub rigged on a 1/8, 1/4 or 3/8 ounce jighead. Tube and spider jigs are great imitators of bottom-dwelling crayfish and insects, and should be dragged or bounced slowly along the bottom during the retrieve.
Another versatile artificial lure option is a drop-shot rig dressed with small, soft plastic minnow-style bait. This set up is a great multipurpose rig for many fish species. Also, a basic worm and bobber rig is a time-tested setup and shouldn't be overlooked while fishing at Oakledge.
If you are fishing at Oakledge during the early morning or evening hours, try a top water plug such as a popper or walking-style bait to draw aggressive strikes from cruising smallmouth bass that have moved up into the shallows to feed. As with fishing at any location, try different sections of the shoreline at the park and vary your lure or live bait presentation until you find success.
How do I get there?
To get to Oakledge Park by vehicle, take Flynn Avenue from either Pine Street in downtown Burlington or from Shelburne Road (VT Route 7) until you reach the park. By foot or bike, go south from downtown Burlington on the Island Line Trail – also known as the Burlington Bike Path – until you reach the park.