Colchester Pond is another excellent fishing spot just minutes from the city of Burlington.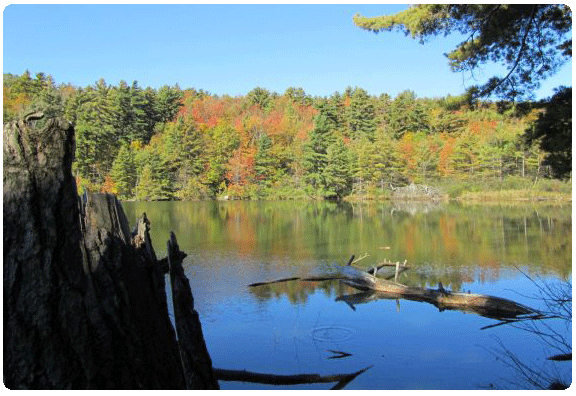 The pond is ideal for anglers looking for quiet, small-water fishing opportunities conducive to shoreline or canoe and kayak fishing. One thing to note is that no motorized vessels are allowed – including electric motors. Anglers can access various shoreline fishing spots around the pond via the Loop Trail, a 2.5 mile path that circles the waterbody.
What fish species will I find?
Anglers fishing Colchester Pond will find smallmouth bass, northern pike and yellow perch.
What's the habitat like?
Colchester Pond has a maximum depth of 45 feet and, like many Vermont ponds, features a mix of aquatic habitat that makes for fun and productive fishing. The deeper parts of the pond have steeper, rock or ledge shorelines, while other sections are more gradual with a softer bottom and plenty of aquatic vegetation.
Give these fishing tips a try
Colchester Pond's variety of aquatic habitat lets anglers pick and choose how and where they prefer to fish. Fishing different habitats is a great way to learn how fish position on different types of structure and what techniques are effective for various species.
When fishing a waterbody like Colchester Pond, sample the different habitats – steep and gradual spots, hard and soft bottomed areas, hard structure like boulders or tree limbs versus softer structure like aquatic vegetation – until you find productive water.
Tailor your tackle to the type of cover you are fishing. Try "weedless" tackle options like Texas-rigged soft plastics, floating frogs and bladed jigs around shallow aquatic vegetation and brush piles.
For combing steeper banks consisting of ledge, gravel or boulders, consider using a bottom-dredging crankbait, a spider grub or a small worm on a drop-shot rig. Though many of these offerings are more conducive to bass and pike, scaled-down versions of crankbaits, drop-shots and grubs or jigs can be great for yellow perch as well.
While bass and pike can be found holding on both gradual and steeper structure throughout the pond, anglers will most likely find yellow perch schooled up in mid-depth to deep water areas. Try for perch around offshore weed lines where a weed bed tapers off into deeper water, around steeper, hard-bottom shorelines, and around any off-shore bottom structure like boulders or sunken trees.
Remember, a standard worm on a bobber rig can be effective for an extremely wide range of fish species at just about any time during the open water season!
How do I get there?
From Route 2 in Colchester, take 2A (Main Street) east to Colchester Village. Turn left on to East Road and then turn right on to Depot Road. Continue on Depot Road, staying left (Depot Road becomes Colchester Pond Road) until you arrive at Colchester Pond.