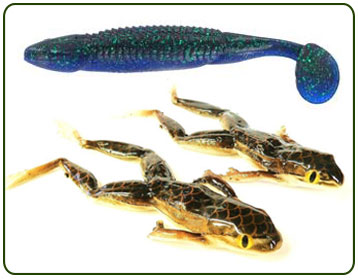 A diverse assortment of baits, floating soft plastic lures come in a range of shapes, sizes, colors and textures.
Suggested Seasonal Use: Open water; late-spring, summer and early fall

Species: All species

Types: Resembling everything from frogs and baitfish, to worms, lizards and insects, floating soft plastic lures can be rigged on different types of hooks and fished around various types of cover to mimic a range of forage species. In contrast to other types of top water baits that are sold individually and have internal, hard-mounted hooks, floating soft plastics come in greater quantities and can be rigged on an angler's hook of choice for the application at hand.

How to Use: As with other top water baits, floating soft plastics are generally more productive for fishing around shallow underwater cover such as weeds, wood and rocks, though they can also be effective for targeting schooling fish in deeper, open water.