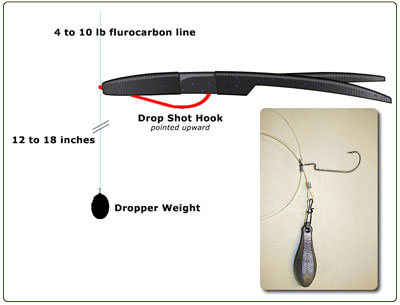 The drop-shot rig has become increasingly popular in recent years as an effective tactic for targeting a variety of species of fish at any time of the year.
While drop-shot rigs are generally fished around bottom structure, they can also be "counted down" to catch suspended fish in the middle of the water column.
Suggested Seasonal Use: Year-round, open water and ice fishing

Species: All species-- originally a highly productive tactic in the salt water and bass fishing communities, the drop-shot rig has since been leveraged to chase everything from perch and walleye to panfish, trout and pike.

How to Rig: The rig typically consists of a hook tied to the main fishing line, with a 12 to 24 inch tag-end piece of line left to which an egg, bell or cylinder-shaped weight is tied. The rig can be tailored to the type of species targeted and the type of habitat present by selecting the appropriate soft plastic or live bait, the proper hook to rig the bait on and the correct weight for the water and bottom conditions present.

Types: A wide array of soft plastic and live bait offerings can be rigged on a drop-shot and done so via several different rigging options. Soft plastic lures can be nose-hooked, back-hooked, Texas-rigged or wacky-rigged on the drop shot, and live bait offerings can also be rigged in a range of fashions to meet an angler's presentation needs.

How to Use: In contrast to many baits and rigs that are fished right on the bottom, the drop-shot rig allows for a unique presentation just off the bottom that is extremely realistic and irresistible to fish – both active and lethargic. One key to fishing a drop-shot rig is to keep your line just tight enough so that your bait is held up off the bottom, but your weight stays on the bottom. Keeping your weight in contact with the bottom and "suspending" your bait off the bottom is a proven tactic for catching even the most tentative of fish.