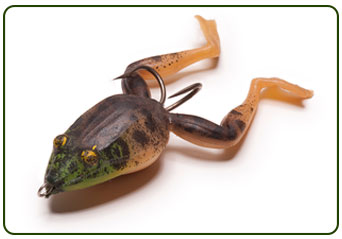 Known for their ability to entice strikes from fish around shallow cover such as docks, weeds, trees, lily pads and other aquatic habitat, top water frog-style baits can be an important part of an angler's lure arsenal.
Suggested Seasonal Use: Open water; late-spring, summer and early fall

Species: Primarily bass, pike and pickerel, though other warm water species may be caught

Types: Most commonly used by bass and pike fisherman, top water frog-style baits typically feature a hollow, soft-plastic or rubber body, and single or multiple weedless hooks. These baits come in a variety of shapes, sizes and colors, and are designed to produce different types of actions and mimic fish prey such as a frogs, mice, rats and baitfish, among others. Some are designed to pop and spit water, while others are designed to walk, wobble or scoot across the surface. Additionally, some styles of top water frogs are specifically designed just for retrieving across dense matted vegetation or floating algae.

How to Use: Three keys for fishing top water frogs include selecting the right bait for the type of habitat you're fishing, tying the frog to strong, buoyant line such as braided line, and varying your cadence or retrieve until you figure out what retrieve pattern incites reaction strikes from fish. Sometimes the fish will want the lure popped slowly, while other times they'll want it retrieved quickly, or even sitting completely still. It all depends on the mood of the fish, so let the fish tell you how to work your bait during the retrieve.

Also, when a fish strikes, be sure to wait for a moment before setting the hook. Anglers often pull back on their line as soon as a top water bite occurs, thus pulling their hooked bait away from the fish too soon. Let the fish "get the bait" completely before setting the hook. Fishing a top water frog around thick aquatic cover can be one of the most fun and productive ways to fish!