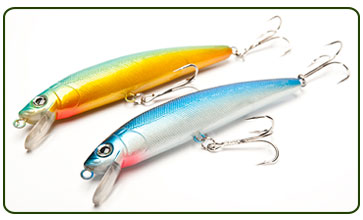 Time-tested and proven over decades of use, stickbaits are a deadly tool for targeting just about all species of fish from small to large, coldwater and warmwater.
Often called jerkbaits, slashbaits or minnow baits, the term "stickbait" refers to a series of versatile hard-body lures that may be the most well-known multi-species baits in the history of sport fishing.
Suggested Seasonal Use: Year-round, open water

Species: All species

Types: Stickbaits, which are designed to mimic baitfish of different types and sizes, are made to run at different depths and display varying types of actions when retrieved. Some bait options include shallow, mid-depth and deep diving models, one piece and jointed versions, suspending and floating styles, and baits with or without rattles, among other types.

How to Use: Though stickbaits may shine best in situations with cooler and clearer water, they truly are the ultimate minnow imitating lure and can be successful in a very wide range of fishing scenarios. Stickbaits can be worked erratically or steadily, fast or slow, and they will likely produce. Whether you're targeting river-dwelling trout, schooling yellow perch or aggressive smallmouth bass, a stickbait is a multipurpose lure for many species and situations.