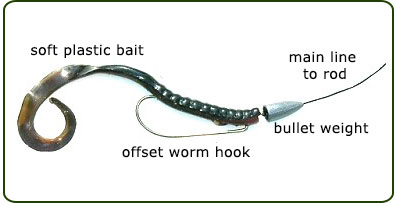 A rig commonly utilized by bass anglers, the Texas Rig is known for its ability to remain "weedless" and be retrieved through all types of cover such as submerged vegetation, rocks and wood without "hanging up."
Suggested Seasonal Use: Year-round, open water

Species: Primarily bass, pike and pickerel, though other warm water species may be caught

How to Rig: The rig, which can also be fished weightless, generally consists of a cone-shaped weight threaded onto the main fishing line, followed by a hook that is tied to the line. The key to the Texas Rig is properly dressing the hook with the bait of your choice.

Start by threading the hook point down between ¼ and ½ of an inch into the top part of the plastic bait in a top-to-bottom direction (you may need to go further into the plastic in the case of a longer bait). Next, push the point of the hook out the side of the bait, sliding the bait up the hook and onto the bend in the hook just below the hook eye. Lastly, thread the hook half-way into the lower end of the bait, keeping the hook point covered by the soft plastic.

Types: Depending on what type of baitfish an angler seeks to imitate, the hook may be dressed with a variety of types of soft plastic baits including, but not limited to, worms, craws, creature baits, lizards, tube baits, frog-style baits and baitfish imitators.

Additional Information: One key to consider with a Texas Rig is the size of your weight. Conventional wisdom is to use just enough weight for the lure to reach the bottom. However, a heavier weight, at times, will generate reaction strikes from nearby fish that may aggressively respond to the bait's faster rate of fall in the water. Furthermore, a number of surface plastics can be Texas-Rigged to be retrieved on or near the surface of the water. Feel free to experiment with different lures and weights depending on the type of fish you are targeting and the type of cover you're fishing around. There are countless Texas Rig setups that may work for you!