Branbury State Park on Lake Dunmore is located at 3570 Lake Dunmore Rd in Salisbury, VT.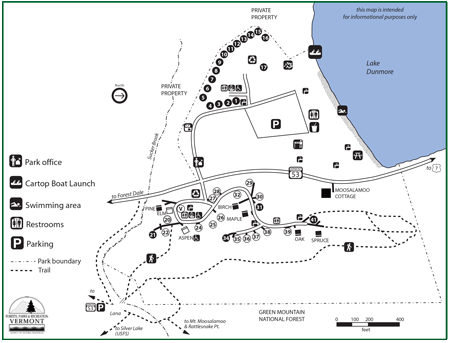 Lake Area:
985 acres
Lake Max. Depth:
105 feet
Fish Species
Black crappie, brown bullhead, lake trout, largemouth bass, landlocked Atlantic salmon, northern pike, panfish, rainbow smelt, rainbow trout, smallmouth bass and yellow perch.
Habitat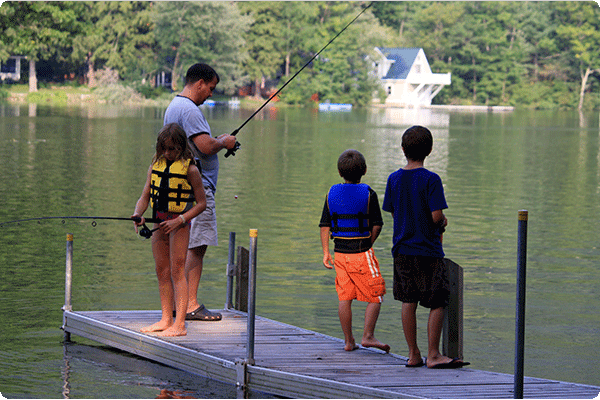 Lake Dunmore features a wide range of fish habitat for both warm and cold water fish species. The lake has shallow soft-bottom coves with submerged vegetation, boat docks and underwater brush at its north and south ends. The mid-lake area has shallow, rocky habitat around various points and reefs. The lake also features many steep, hard-bottom drop-offs and rises that hold baitfish and provide key habitat for trout, smelt and smallmouth bass.
Park Fishing Tips
Anglers fishing on foot from the beach will want to wade out a bit from the shoreline – and west of the swimming area – to access productive fishing water. To the west of the swimming area are scattered patches of aquatic vegetation that hold various species of fish year-round including panfish, bass and pike.
Rock bass and other panfish species can be found throughout the lake near shoreline cover such as rocks, overhanging trees, submerged vegetation and boat docks.
Other areas of the lake can be accessed by boat. Try for largemouth bass at the north and south ends, for smallmouth bass in the middle section of the lake around rocky points, reefs and drop-offs, and for coldwater species like trout and salmon around deep-water structure – also in the mid-lake area.
Nearby Fishing License Dealers
You can purchase a fishing license at the Lake Dunmore Kampersville Deli in Salisbury, at the Brandon Town Clerk's Office or online.
Nearby Boating Access Areas
At Branbury State Park, you can put in your canoe or kayak right from shore or, for motorboats, head to nearby Vermont Fish & Wildlife's Magoon Access Area on the west shore of the lake.
See also: