Stillwater State Park on Lake Groton is located at 44 Stillwater Rd, Groton, VT
Lake Area:
422 acres
Lake Max Depth:
35 feet
Fish Species
Smallmouth and largemouth bass, chain pickerel, yellow perch, brown bullhead and various panfish.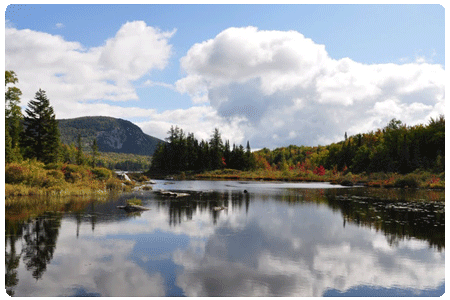 Habitat
Lake Groton features clear water and a primarily hard bottom consisting of sand, boulders and gravel or cobble, though softer bottom is found in some of the lake's inlets and outlets. Boat docks and the lake's many boulders and rock piles provide shady ambush spots that predatory fish, such as bass and pike, like to wait in to ambush their next meal. Additionally, the lake does have some native aquatic vegetation that provides habitat for the lake's fish species.
Park Fishing Tips
Fishing a clear, northern waterbody like Lake Groton can be simple and very productive. Present your lure or live bait of choice with accurate casts toward any visible underwater cover such as rocks, weeds, dock posts, laydown brush or tree limbs etc. Also fish near any sharp depth changes – such as where deeper water might cut in towards the shoreline or a point of land.
A basic nightcrawler and bobber rig is tough to beat for the various fish found in Lake Groton, but if you want to fish with lures, consider baits with more natural colors and finishes that fit in with the clear, rocky bottom of the lake. For example, consider fishing a subdued brown or green-pumpkin jig on the bottom to imitate bottom-dwelling crayfish, or try a metallic-bladed spinner to mimic small, fleeing baitfish. Remember, fishing is often about "matching the hatch" and making your lure and presentation imitate the prey as closely as possible!
Nearby Fishing License Dealers
You can purchase a fishing license at the park office, at Seyon Lodge State Park or Ricker Pond State Park in Groton, or online.
Nearby Public Boating Access Areas
Stillwater State Park has a gravel boat launch onsite at for camper use. Boulder Beach State Park offers small vessel. Both launches are open only during Vermont State Park season between Memorial Day and Labor Day.