Waterbury Center State Park on Waterbury Reservoir is located at 177 Reservoir Rd, Waterbury Center, VT
Lake Area:
860 acres
Lake Max. Depth:
100 feet
Fish Species
Rainbow trout, brown trout, rainbow smelt, smallmouth bass, bullhead, and yellow perch.
Habitat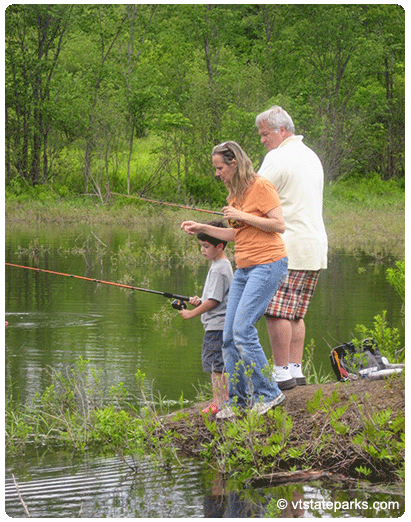 When the Little River was dammed, it created the Waterbury Reservoir. Little River flows into the reservoir at its north end and out of the reservoir via controlled flow at its southern end. The reservoir features clear water and a bottom consisting of a mix of sand, silt, gravel, boulders and ledge.
Quality fish habitat ranges from submerged trees and brush, to rocky points, bluff walls, gravel banks and some aquatic vegetation.
Park Fishing Tips
Waterbury Reservoir provides anglers with the opportunity to fish diverse fish-holding habitat including submerged woody cover, rocky points, bluff walls and some aquatic vegetation. Fallen trees cover a wide range of depths and will produce fish during all open water months.
A good portion of the reservoir's shoreline consists of steep rock walls that can be very productive for smallmouth bass during the warmest months. Fish these walls with unweighted soft plastic lures and suspending jerk baits. If you are looking for a rush, get out in the early morning and enjoy a fantastic top water bite! While fishing with these tactics, anglers may also hook into some nice yellow perch, rainbow trout and brown trout.
Shoreline fishing opportunities abound at Waterbury Center State Park and via various trails around the reservoir. Wild brook trout and rainbow trout can also be found in Stevenson Brook, which flows through Little River State Park on the southern end of the reservoir. Or you can take a canoe, kayak or motorboat to any fishing spots on your radar!
Nearby Fishing License Dealers
You can purchase a fishing license at Parro's Gun Shop in Waterbury, The Fly Rod Shop in Stowe, or online.
Nearby Boating Access Areas
Various boat launches are available on Waterbury Reservoir, including launching areas at Little River State Park, Waterbury Reservoir State Park, and adjacent to the Waterbury Reservoir dam.
See also: