Emerald Lake State Park on Lake Emerald is located at 65 Emerald Lake Ln, East Dorset, VT
Lake Area:
20 acres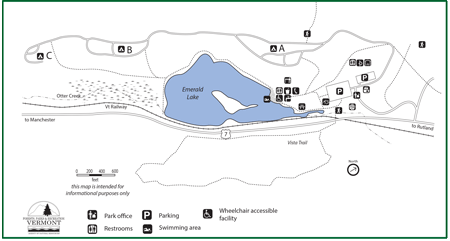 Lake Max. Depth:
46 feet
Fish Species
Smallmouth bass, yellow perch, northern pike, sunfish, bullhead.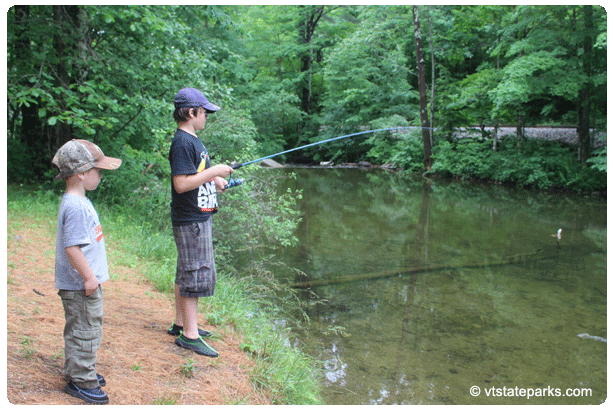 Habitat
Emerald Lake is small but relatively deep and clear. Areas of aquatic vegetation are restricted to the very northern and southern ends of the lake. The rest of the shoreline around the lake drops steeply away from the shore into deeper water and features many submerged wood and sunken longs that provide cover for fish. The island offers rocky shorelines, boulders, and rock ledges, and can be a hot fishing spot.
Park Fishing Tips
Schools of perch can be found in the shallow area between the State Park Beach and the island along the lake shore, as well as around the aquatic vegetation at the north and south ends. Fish with a live worm under a bobber. A small jig tipped with a worm or small soft plastic lure bounced around areas of sand and rock can also be effective.
Smallmouth bass like the rocks found around the west and south sides of the island. Diving crankbaits cast around the rocks, or jigs worked slowly on the bottom, often catch smallmouth bass. Also try a top water lure, such as a popper, first thing in the morning as the sun comes up, or right before sunset in the evenings.
Pike are most often caught on the south end of the island in deeper areas. The walking trail along the west shore of the lake offers several good areas to cast from shore. Otherwise, your best bet is to fish from a boat, canoe or kayak if possible.
Nearby Fishing License Dealers
You can purchase a fishing license at HN Williams Store in Dorset, The Reel Angler in Manchester, or online.
Nearby Boating Access Areas
While motorized boats are not allowed on Emerald Lake, it is a great spot for canoes, kayaks or small row boats. Small watercraft can be launched from the park shoreline, particularly along the walking path headed in toward the beach and swimming area.