Kent Pond offers fishing opportunities and Gifford Woods State Park is located at 34 Gifford Woods Acc, Killington, VT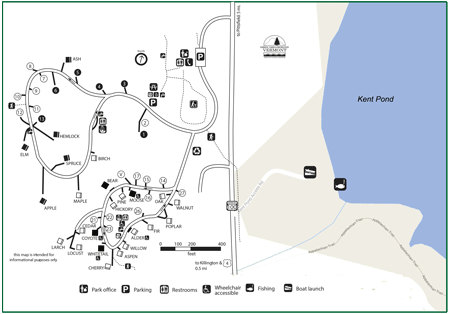 click map to enlarge
Lake Area:
101 acres
Lake Max. Depth:
20 feet
Fish Species
Largemouth bass, pumpkinseed sunfish, yellow perch, brook and rainbow trout.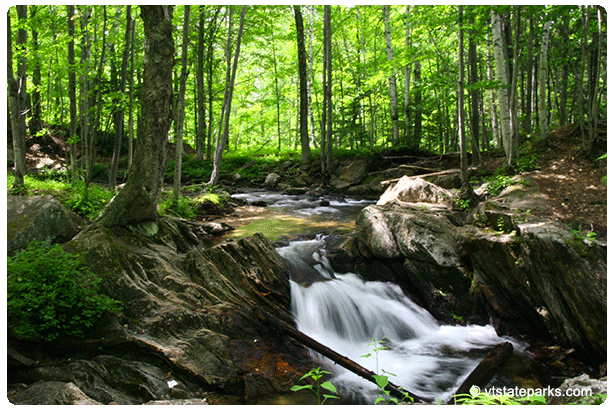 Habitat
Kent Pond is shallow and clear. It has a mixed bottom of sand, silt, broken rock and boulders, and ledge. Anglers will experience both underwater and surface aquatic vegetation, as well as fallen trees, brush and logs. These features provide great cover for a variety of fish including largemouth bass, yellow perch and sunfish.
Trout can be found holding along the dam breast on the east side of the pond, as well as in Kent Brook which flows into the pond on its west side, adjacent to the Vermont Fish & Wildlife access area.
Park Fishing Tips
Try fishing for trout from the dam breast on the pond's eastern shore, or in Kent Brook on the west side of the pond. Kent Pond is stocked with trout each spring, and anglers are typically most successful in targeting stocked fish on the east side of the pond.
Anglers may encounter native trout as they work their way up Kent Brook. Typical trout offerings such as a drifted worm—with or without a bobber, small spinners or flies, can be effective.
For targeting Kent Pond's bass try using spinners, jigs or soft plastic lures. There is a slot limit on Kent Pond bass, which requires all fish between 10 and 12 inches to be released. The daily limit of bass is ten, with only one being over 12 inches. To catch perch and sunfish, try using small spinners, tube jigs or grubs.
Nearby Fishing License Dealers
You can purchase a fishing license from Gifford Woods State Park, the Killington Town Clerk, or online.
Nearby Boating Access Areas
Kent Pond, across the road from Gifford Woods State Park, features a concrete boat ramp and fishing access area managed by Vermont Fish & Wildlife. The access area, located on the west side of the pond, is a great spot to go fishing from shore or from a launched canoe, kayak, rowboat or motorboat. Less than a mile away is Colton Pond that also has a fishing access area and offers similar fishing opportunities as Kent Pond.