Half Moon State Park is located at 1621 Black Pond Rd, Fair Haven, VT
Lake Area:
23 acres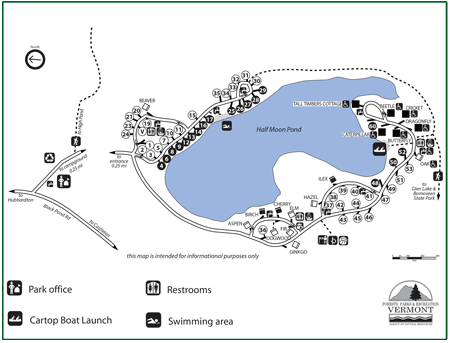 Lake Max. Depth:
8 feet
Fish Species
Largemouth bass, sunfish, yellow perch and northern pike.
Habitat
Half Moon Pond is a shallow waterbody with fish-holding aquatic vegetation both close to shore as well as in off-shore locales. Additionally, fallen trees, brush piles and submerged rocks can be found along the pond's perimeter and they also provide great habitat for resident fish.
Park Fishing Tips
Try fishing various lures around any visible aquatic cover such as aquatic vegetation, sunken brush and trees, and points of land extending into the water. These all provide shady ambush spots for predatory fish, such as bass and pike, waiting to ambush their next meal.
Bottom bouncing lures such as jigs and Texas-rigged soft plastics can be great crayfish and worm imitators while spinnerbaits can be retrieved with faster, steadier retrieves to imitate fleeing baitfish and trigger aggressive reaction strikes from feeding fish. Floating top water lures such as poppers, floating frogs or walking-style baits can also produce on the pond early and late in the day.
Try fishing at different depths, from on the bottom, in the middle, and near the top of the water to figure out where the fish are feeding. Also, a basic nightcrawler and bobber rig is a fail-proof setup for catching nearly any species of fish in Half Moon Pond and shouldn't be overlooked!
Nearby Fishing License Dealers
You can buy a fishing license at the park office or go online.
Nearby Boating Access Areas
Half Moon State Park offers a cartop boat launch area and visitors can easily launch canoes, kayaks and row boats directly from the shore at the park.