Lake Carmi State Park is located at 460 Marsh Farm Rd, Franklin, VT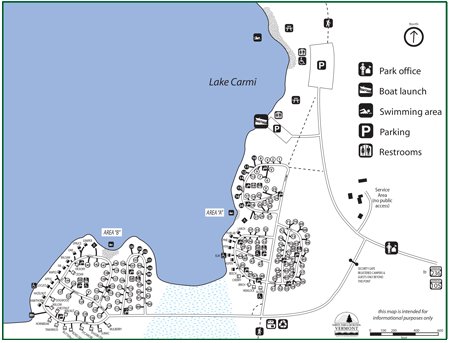 click map to enlarge
Lake Area:
2.15 square miles
Lake Max. Depth:
33 feet
Fish Species
Walleye, smallmouth bass, yellow perch, northern pike, brown bullhead and various panfish species (a small population of largemouth bass also exists).
Habitat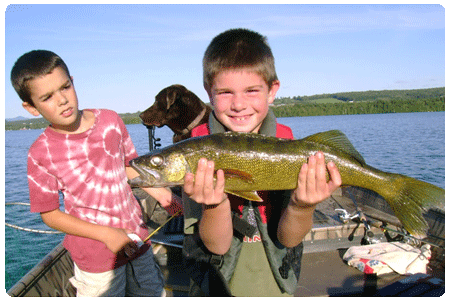 Lake Carmi primarily features a hard, rocky-bottom that provides prime habitat for various fish species and their forage. While the lake's bottom is fairly gradual and shallow with minimal offshore fish-holding structure, the lake does have shoreline fish cover such as extending points, rock piles, boat docks, and overhanging trees. Submerged vegetation can also be found in the shallow southwest corner of the lake adjacent to the state park.
Park Fishing Tips
Shallow water-oriented species such as panfish, bass, pike and bullhead may be caught from the shoreline at Lake Carmi State Park. Yellow perch can be found in the shallows as well in early summer and in the fall, but many will migrate toward deeper water habitat during the middle of the summer.
Try fishing bladed spinners, crankbaits or stickbaits to imitate young baitfish that many of the bigger species present in Lake Carmi like to eat. Tiny jig and soft plastics can also work for catching panfish. If you're interested in walleye, you'll likely need some type of boat to get away from the bank a little bit in order to connect with this sought-after gamefish. For walleye, consider fishing with a nightcrawler harness rig along the bottom.
Nearby Fishing License Dealers
You can purchase a fishing license at the park office, at the West Enosburg Country Store in Enosburg Falls or online.
Nearby Public Boating Access Areas
Lake Carmi State Park has a boat launch on the premises. You can also put in canoes and kayaks right from shore.