Maidstone State Park is located at 4858 Maidstone Lake Rd, Maidstone, VT
Lake Area:
796 acres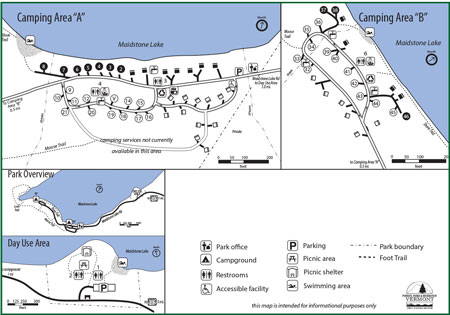 Lake Max. Depth:
121 feet
Fish Species
Rainbow trout, lake trout, smallmouth bass, bullhead, yellow perch, pumpkin seed and burbort.
Habitat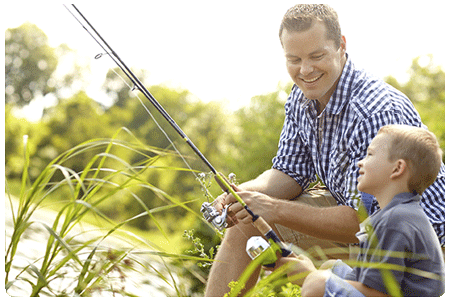 Maidstone Lake was created when glacial ice carved out a deep basin in a preexisting valley. When the last glaciers melted 12,000 years ago, a deep, clear and cold lake was formed.
Most of the lake bottom is covered in boulders, but there are some areas of sand and silt. Look for smallmouth bass along shorelines with boulders. Rainbow trout will likely be suspended in deeper water. Lake trout could be just about anywhere from 30- to 100-feet down.
Park Fishing Tips
Maidstone Lake has an abundant population of lake trout, and it is stocked with rainbow trout. You may be able to catch these fish near shore in less than 10 feet of water in the spring when the water is still cold.
By June, expect most of the trout to be in water deeper than 20 feet. Rainbow trout will take worms, and both lake and rainbow trout will hit spoons and spinners.
If you want to target smallmouth bass, try your luck along the Shore Trail. Look for areas with large boulders near shore.
Nearby Fishing License Dealers
You can purchase a fishing license at Brighton Town Clerk in Island Pond, CCR Sports, St. Michael's Defense, or Aubuchon Hardware-St J in St Johnsbury, or online.
Nearby Boating Access Areas
Boats are welcome at Maidstone State Park, though there is no boat launch. A Fish & Wildlife Access Area is available nearby to launch boats. Kayaks, canoes and a rowboat can be rented through the park office.