Button Bay State Park on Lake Champlain is located at 5 Button Bay State Park, Vergennes, VT
Lake Area:
490 square miles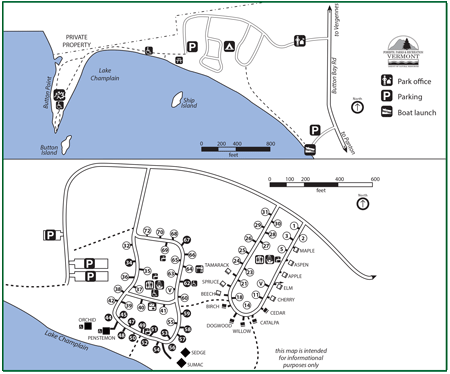 Lake Max. Depth:
400 feet
Fish Species
81 different fish species reside in Lake Champlain. Some of the more abundant species around Button Bay State Park include smallmouth and largemouth bass, northern pike, landlocked Atlantic salmon, steelhead rainbow trout, brown trout, lake trout, common carp, freshwater drum, bowfin, walleye and panfish species such as perch, crappie, bluegill, rock bass and pumpkinseed.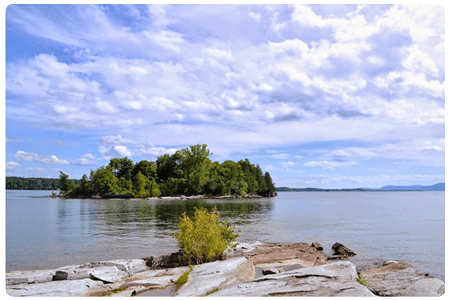 Habitat
The area around Button Bay State Park features diverse habitat ranging from shallow bays and coves to bluff walls leading to water depths of several hundred feet. The bottom composition in this area also varies between hard bottom consisting of ledge, cobble and boulders, to softer substrates such as sand and mud. A mix of shallow vegetation, rocky points and reefs, and deep-water ledges combine to create great habitat for both warm and cold water species.
Park Fishing Tips
Try fishing for bass, pike and panfish at the main point of land near the southwest corner of the park that extends out into the lake – just across from Button Island. Small tube jigs, plastic worms, spinnerbaits and topwater plugs can all be productive at different times. Generally speaking, you will need a boat to access deeper offshore habitat favored by trout and salmon.
Nearby Fishing License Dealers
You can buy a fishing license at Basin Harbor Club or Otter Creek Bait Shop, or at the Panton and Vergennes town offices, or online.
Nearby Public Boating Access Areas
There is a gravel launch at the southeast corner of the park which is generally best for smaller boats, canoes and kayaks, though larger boats can be launched when water levels are higher. Fort Cassin Access Area on Otter Creek is another nearby option and can handle all types of boats.