Brighton State Park is located at 102 State Park Rd, Island Pond, VT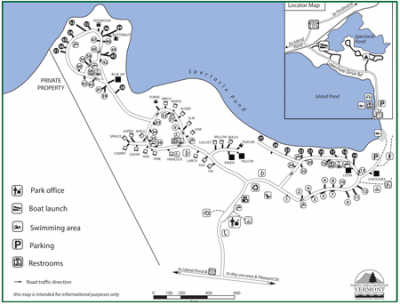 click map to enlarge
Lake Area:
102 acres
Lake Max. Depth:
15 feet
Fish Species
Primary species include largemouth bass, brown bullhead, chain pickerel, yellow perch and various species of panfish, though brown trout and smallmouth bass are also caught occasionally.
Habitat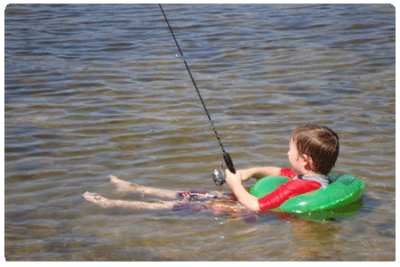 Spectacle Pond is a shallow, primarily soft-bottomed waterbody that is home to a range of warm water species, as well as brown trout, a cold water species. As the summer season progresses, a fair amount of aquatic vegetation, such as lily pads, will grow in different areas of the pond. This aquatic vegetation, in addition to other types of fish habitat like submerged trees and boulders, provides quality cover for predatory fish like bass and pickerel.
Park Fishing Tips
Try targeting largemouth bass, pickerel and panfish around shallow cover including lily pads, submerged weeds and submerged brush or tree limbs. Larger lures such as spinner baits, Texas-rigged soft plastics and top water lures are always good bets for bass and pickerel, while smaller offerings like a jighead tipped with a mini plastic tube or grub are great for catching panfish.
However, a basic bobber and nightcrawler rig, or a small in-line spinner, are always great choices for a variety fish species – both large and small. If you hope to connect with some of the more elusive brown trout or smallmouth bass that are less abundant in the pond, try fishing some of the pond's deeper shoreline spots or consider using a canoe or kayak to reach off-shore areas with cooler water and greater depths that are often favored by these two species during the heat of summer.
Nearby Fishing License Dealers
You can purchase a fishing license on site at the park office and at the Brighton Town Clerk in Island Pond, VT.
Nearby Boating Access Areas
At Brighton State Park, you can put in your canoe or kayak right from shore or, for motorboats, head to the nearby Vermont Fish & Wildlife boating access area on Lakeshore Drive.