Elmore State Park on Lake Elmore is located at 856 VT-12, Elmore, VT
Lake Area:
224 acres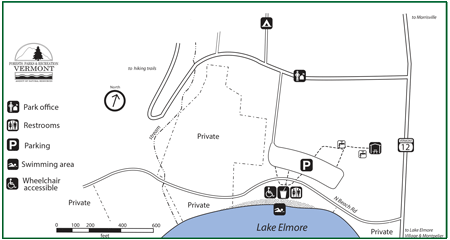 Lake Max. Depth:
18 feet
Fish Species
Yellow perch, northern pike, largemouth and smallmouth bass, bullhead, panfish.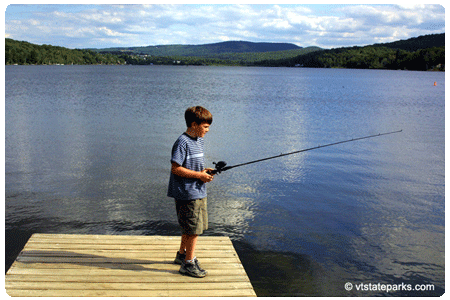 Habitat
Most of Lake Elmore is shallow, with the deepest water ranging between 15 and 18 feet. While the shallow parts allow for growth of aquatic plants, the vegetation is very patchy. These scattered weed beds provide the main cover for Lake Elmore's fish species.
Park Fishing Tips
The north and south ends of the lake are very shallow, with very gradual slopes into deeper water. A canoe, kayak, or boat is very helpful in reaching the more productive fishing grounds away from the shallow nearshore areas.
Fish near the edges of aquatic vegetation beds in 6 to 11 feet of water, where all the species that live in Lake Elmore can be caught. The yellow perch are very abundant, but they are generally small.
Nearby Fishing License Dealers
You can purchase a fishing license at Tomlinson's Store in Morrisville, at The Fly Rod Shop in Stowe, or online.
Nearby Boating Access Areas
At Elmore State Park, campers may launch their canoes or kayaks from the park shoreline, or take advantage of Vermont Fish & Wildlife's Vaughn M. Douglass Fishing Access Area at the south end of the lake, which features a concrete boat ramp suitable for various types of watercraft, including motorboats.