Grand Isle State Park on Lake Champlain is located at 36 E Shore S, Grand Isle, VT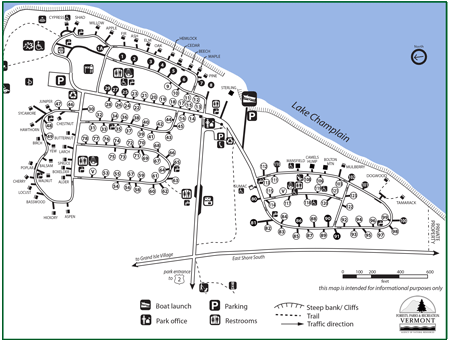 click map to enlarge
Lake Area:
490 square miles
Lake Max. Depth:
400 feet
Fish Species
81 different fish species reside in Lake Champlain. Some of the more abundant species around Grand Isle State Park include smallmouth and largemouth bass, northern pike, landlocked Atlantic salmon, steelhead rainbow trout, brown trout, lake trout, common carp, freshwater drum, bowfin, walleye and panfish species such as perch, crappie, bluegill, rock bass and pumpkinseed.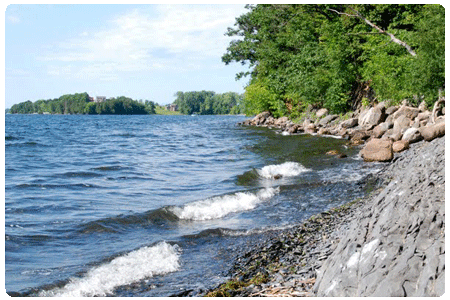 Habitat
The Inland Sea area around Grand Isle State Park features a predominantly hard, rocky bottom with shallow bays as well as offshore fish habitat such as extending points, deep rock piles and various reefs and humps. Some shallow, submerged vegetation can be found directly around the park while nearby Keeler Bay features large expanses of aquatic vegetation such as lily pads and Eurasian milfoil.
Park Fishing Tips
Anglers fishing from shore at Grand Isle State Park will mostly encounter bass, pike, bowfin and panfish during the summer months. Try fishing around any submerged vegetation, boat docks, floating platforms, moored boats, underwater rock piles or steep drop-offs with live bait rigs, small jigs, plastic worms or spinnerbaits. Also try a topwater plug to draw explosive reaction strikes from aggressive feeding fish. You will need a boat to access deeper offshore habitat favored by trout and salmon.
Nearby Fishing License Dealers
You can buy a license at the park office or online.
Nearby Public Boating Access Areas
Grand Isle State Park has a boat launch on park premises. You can also put in canoes and kayaks right from shore. Off-premise launching facilities include Vantines State Access Area in Grand Isle, and Keeler Bay Access Area in South Hero.